Apple for Your Thoughts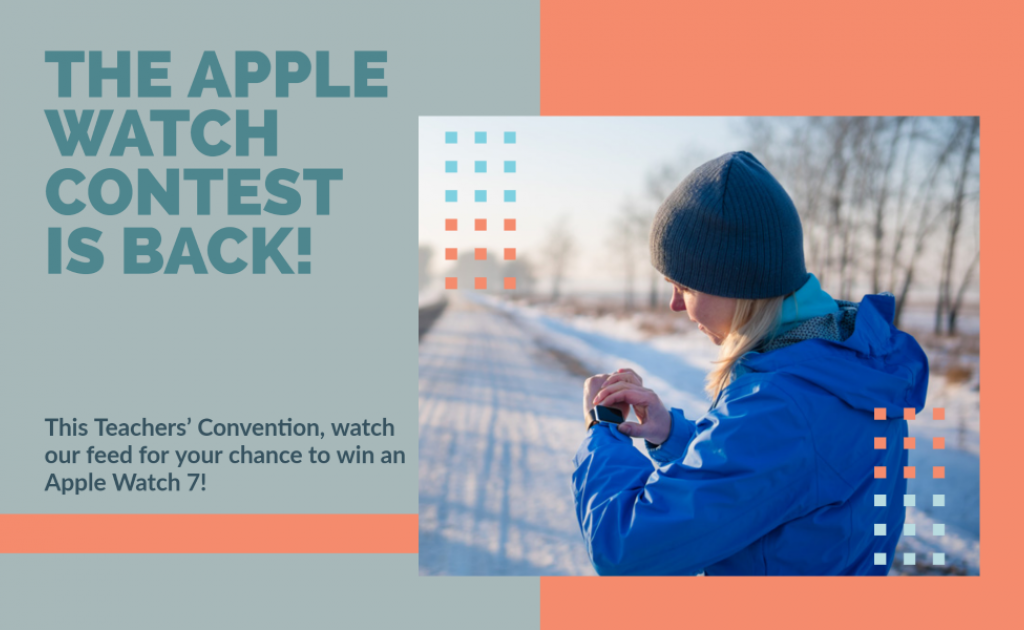 Once again this year, your Teachers' Convention will be online. We really miss seeing your faces and answering your questions in person! However, be sure to watch for our live or pre-recorded presentations at your online convention. 
You may remember during last year's Teachers' Conventions we gave away five Apple Watches with our social media campaign. Well, as conventions are once again online and we aren't incurring travel and other expenses we normally see during convention season, we're turning those funds into another Apple Watch contest for 2022!
Here's how you can get involved: 
On convention start dates, watch for videos posted to our Facebook and Twitter pages of our very own employees posing a question. There will be five videos in total posted on Thursdays throughout the convention season (February 10 – March 11), each with a unique question.
Answer the question by commenting on the video to be entered into the draw for an Apple Watch Series 7. There will be five draws in total – one for each video. That means there are five watches to be won! Don't forget that you need to follow our page, AND comment on a video to be entered. You must also be an ASEBP member to qualify (you don't need to be a teacher—all ASEBP covered members are eligible). 
Want to increase your chances of winning? You can enter all five draws by commenting on each of the videos. ASEBP covered members will get one entry for each video they comment on. We'll be announcing the winners before the end of March to give covered members the chance to comment on as many videos as possible. We can't wait to engage with you and hear your thoughts and ideas!