Black History Month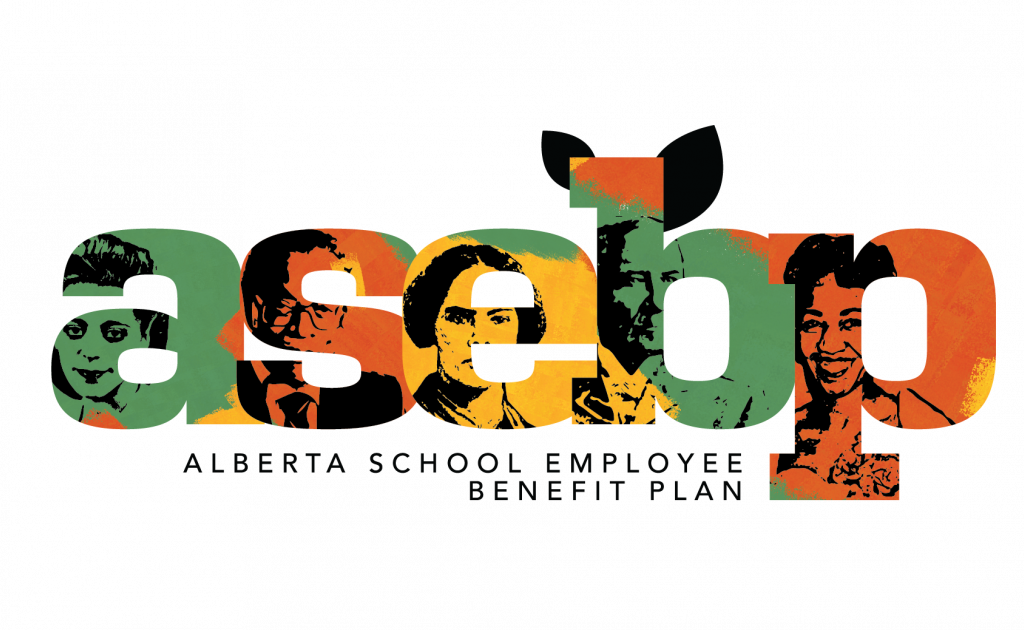 *For a description of the special version of ASEBP's logo depicted above, please see the end of this article.
This February, ASEBP is proud to take part in Black History Month. It's a time to celebrate the many Black communities in Canada, as well as their contributions that have significantly shaped both our province and country.
The public education sector in Alberta is full of students, teachers, and other education workers that are passionately planning for an exciting, informative month that celebrates the richness and depth of the Black experience. ASEBP is looking forward to sharing as much of this great work being done and promoting as many activities as possible. I'm thrilled that we'll be sharing Black stories, amplifying Black voices, and celebrating Black achievements throughout this month, so be sure to follow our Facebook and Twitter accounts for excellent resources about Black history here in Canada, community events (both virtual and in-person), and more.
If you are aware of any Black History Month events or information that you think others should know about, please feel free to send it to Communications@asebp.ca for a chance to be featured on our social media channels.
I look forward to the celebrations and learnings that this special month brings!
Sincerely,
Kelli Littlechilds
ASEBP CEO
In celebration of Black History Month, we have temporarily changed our logo to a design that uses the traditional Pan-African colours of red, yellow, and green, and incorporates images of influential Black people in Canadian history. From left to right, the people are (biographies from The Canadian Encyclopedia):
Viola Desmond – Viola Irene Desmond (née Davis) was a businesswoman and civil rights activist (July 6, 1914-February 7, 1965). Desmond built a career and business as a beautician and was a mentor to young Black women in Nova Scotia through her Desmond School of Beauty Culture. In 1946, Desmond challenged racial discrimination when she refused to leave the segregated Whites-only section of the Roseland Theatre in New Glasgow, Nova Scotia. She was arrested, jailed overnight, and convicted without legal representation for an obscure tax offence as a result. Despite the efforts of the Nova Scotian Black community to assist her appeal, Desmond was unable to remove the charges against her and went unpardoned in her lifetime. Her courageous refusal to accept an act of racial discrimination provided inspiration to later generations of Black people in Nova Scotia and in the rest of Canada. In 2010, Lieutenant-Governor Mayann Francis issued Desmond a free pardon. In December 2016, the Bank of Canada announced that Desmond would be the first Canadian woman to be featured by herself on the face of a bank note—the $10 note was released on November 19, 2018. Desmond was named a National Historic Person by the Government of Canada in 2018.
Lincoln Alexander – Lincoln MacCauley Alexander, CC, OOnt, QC, was the Lieutenant-Governor of Ontario from 1985-1991, a member of Parliament from 1968-1980, a lawyer, and a public servant (January 21, 1922-October 19, 2012). Alexander was the first Black Canadian member of Parliament (1968), Cabinet minister (1979), and Lieutenant-Governor (Ontario, 1985). In recognition of his many important accomplishments, January 21 has been celebrated as Lincoln Alexander Day across Canada since 2015.
Mary Ann Shadd – Mary Ann Camberton Shadd Cary was an educator, publisher, and abolitionist (October 9, 1823-June 5, 1893). Shadd was the first Black female newspaper publisher in Canada, founding and editing The Provincial Freeman. She also established a racially integrated school for Black refugees in Windsor, Canada West, and played an important role in giving Black people a voice and advocating for women's rights. In 1994, Shadd was designated a Person of National Historic Significance in Canada.
Mifflin Gibbs – Mifflin Wistar Gibbs was a politician, judge, diplomat, banker, and entrepreneur (April 17, 1823-July 11, 1915). Gibbs was a notable figure in both American and Canadian history. In just over a decade in colonial British Columbia, he prospered in business, advocated for the Black community, served as an elected official, and helped guide British Columbia into Confederation. Gibbs was the first Black person elected to public office in what is now British Columbia.
Violet King – Violet Pauline King Henry was a lawyer and descendant of Black settlers from the United States (October 18, 1929-March 30, 1982). Her life consisted of several important milestones, including being the first Black Canadian to obtain a law degree in Alberta, the first Black person admitted to the Alberta Bar, and the first Black woman to become a lawyer in Canada.