Employee Spotlight: Ryan M.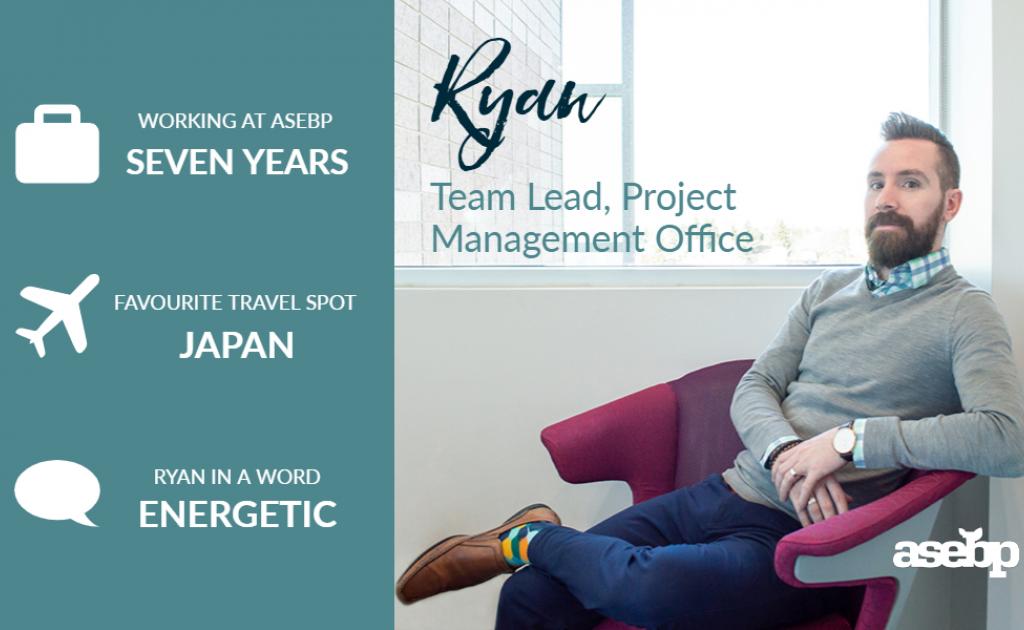 What's your title? Team Lead, Project Management Office
How long have you been at ASEBP? Seven years
What's your favourite music genre? I'll listen to everything, but Pink Floyd and Led Zeppelin are my go-tos
Favourite travel destination so far: Japan, though I'm going to Everest Base Camp next year—that'll be a contender
Describe ASEBP in a word or two: Community, Excellence
Describe yourself in a word or two: Energetic and open-minded (though some would say disgustingly organized)
What does your job entail?
I'm responsible for ASEBP's overall project management function. I provide leadership, integration and organization of Project Management Office processes and governance to improve the consistency and efficiency of ASEBP's project delivery. I also aim to maximize ASEBP's goals and objectives by driving the project portfolio management process through selection and prioritization, while identifying opportunities to optimize any budget and resource restrictions. In short, I act as an air traffic controller for ASEBP's projects.
What aspect of your role do you enjoy the most?
I love collaborating with people on how to make our processes and solutions better every day. I feel continuous improvement is imperative for an organization to grow and become better at what it does, and I love that there are so many like-minded individuals with great ideas at ASEBP who also want to improve and are willing to work together to achieve that.
What do you like most about working at ASEBP?
The people at ASEBP are an obvious one, however another favourite thing about working at ASEBP is how inclined the organization is to evolve. Since I started with ASEBP, I've seen the appetite of the organization grow exponentially in a way that looks at cutting-edge solutions. This has exposed me to projects, software and solutions that are often truly unique, and creates opportunities to put me outside my comfort zone, which I love. There's a learning opportunity around every corner and it definitely keeps each and every day interesting!
How do you like to spend your time when you're not at the office?
I love spending time with my wife and five-year-old son—we do virtually everything together. To appease my competitive side, I play a very competitive level of squash and often participate in tournaments across Alberta. I also love spending time at the rock climbing gym, where my son is beginning to learn the basics of the sport. For my creative side, I've been an avid photographer for years, and recently I've been involved as a committee member of an international photography group that includes over 1,300 people.