Notice: EFAP Service Provider Privacy Breach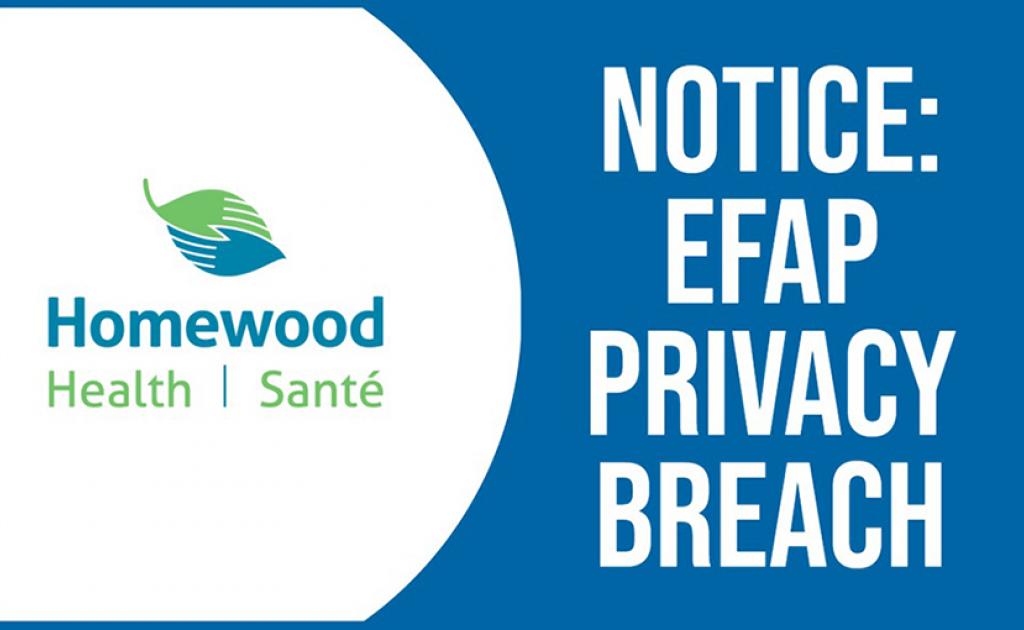 In July 2021, Homewood Health, our third-party Employee and Family Assistance Program (EFAP) provider, notified us that a privacy breach involving personal information related to EFAP services had occurred. At that time, it was conveyed to us that no ASEBP covered members were affected; however, following the recent completion of Homewood Health's in-depth investigation, this has changed. 
On January 27, 2022, Homewood Health contacted ASEBP to inform us that covered members who have accessed EFAP services may have been impacted by this incident, which includes the potential disclosure of some or all of the following types of information: 
Name
Date of birth
Email address
Telephone number
Type of service accessed, or issue addressed
Other information relating to the services provided 
The data breach does not include provincial health care or Social Insurance Numbers, financial or banking information, insurance, or ASEBP benefit plan details.
Because our EFAP is provided by a third party, we are unable to provide information on who may have been impacted as we don't receive individual EFAP usage information to protect covered member privacy. 
You can read more about the steps Homewood Health has taken to investigate and remedy this incident on their website.
To determine if you've been impacted
Please contact Homewood Health directly via their confidential inquiry line at 1-833-787-2862 or their online request form. Remember, if you haven't used the EFAP, then there is no risk of your information being involved in this privacy breach.
Given the type of services available through the EFAP, we understand that this news may be distressing, but know that we are here to support you.
If you are in need of support right now, and are not comfortable reaching out to Homewood Health to access the EFAP, there are additional resources available:
ASEBP psychology benefits: the per-visit maximum for sessions is $180 for the first hour and a maximum of $90 for each additional half hour.
It Takes a Village: ASEBP's mental health microsite offers a variety of ASEBP and community resources