Wellness Champion Spotlight: Ian W.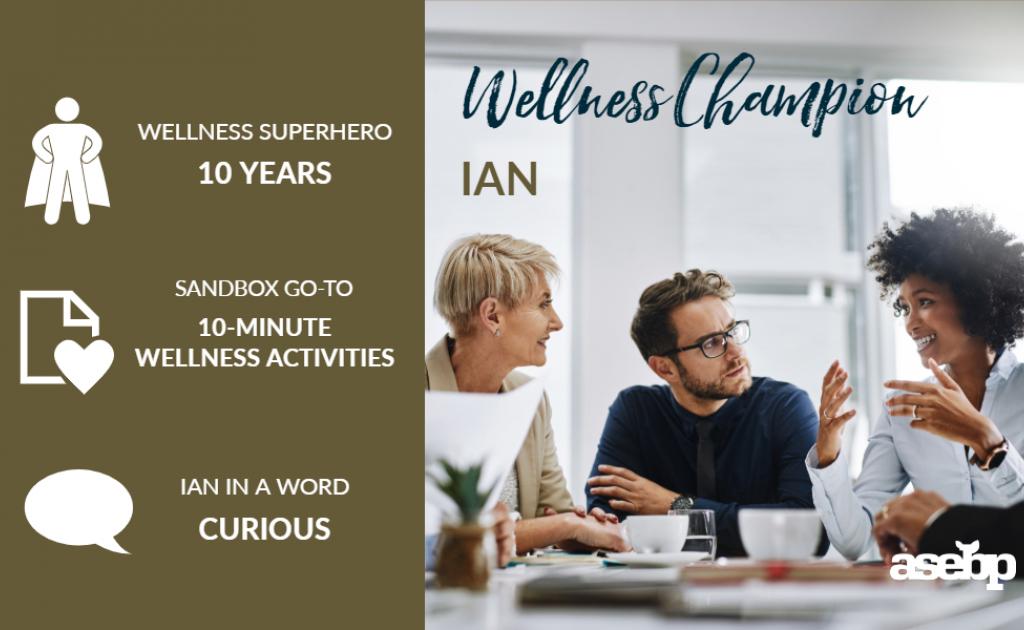 It's easy to see the staff are invested in their work and truly want to address and improve the current state of our employees' well-being.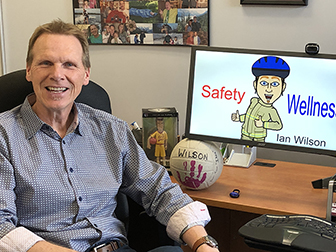 What's your job title and where do you work? I'm the Coordinator of Safety and Wellness for Wolf Creek Public Schools (WCPS).
How long have you been interested in or championed workplace wellness? I've been involved with wellness at the school and district level for 10 years.
Describe ASEBP in a word or two: Evolving, connecting
What's your favourite resource on The Sandbox?
I like the 10-Minute Wellness Activity Series—great ideas that are easy to apply!
Describe yourself in a word or two: Curious, instigator
What do you like to do outside of work? I enjoy hiking in the Rockies, cycling on trails and kayaking with my morning coffee.
What does a typical day look like for you? 
My days are extremely varied. On a typical day, I'm supporting staff with School Emergency Preparedness by facilitating conversations and training. I often get the chance to visit schools and meet with wellness champs to learn the different ways they're encouraging health and wellness with staff and students. I check on the nutrition programs in many of our schools and even hop into a Phys Ed class occasionally to relive my glory years! In a day, I have many conversations with different departments at our division office and we look at how my role can support their work. At the end of the day, I'm thankful for the job I get to do.
How has ASEBP supported your wellness work?  
Our district has worked closely with ASEBP's staff. They provide resources and input at our committee meetings and the wellness champion sessions. They've thoroughly explained our Health Profile Report and we've tracked the utilization rates over the last three years. They continually check in with us and see how they can support us in our efforts.
What do you enjoy most about collaborating with ASEBP? 
Our workplace wellness liaison is intelligent, reflective and just lots of fun! She asks great questions and brings valuable insight to our work. It's easy to see the staff are invested in their work and truly want to address and improve the current state of our employees' well-being.
Have you had an experience with ASEBP or The Sandbox that really stands out in your memory? 
ASEBP hosted a great breakout session at last year's Shaping the Future Conference. Their engaging activities allowed us to have conversations with other districts, which is always appreciated. 
What has been your most successful or memorable wellness activity?
We hosted CRUNCH DAY throughout the district. Students filled hallways and gyms to simultaneously crunch on their loudest fruit or veggie. Many schools participated, including Central Office and School Trustees.
On a larger scale, we've hosted district-wide Staff Wellness Days, where all employees enjoyed a day of keynote speakers and the choice of 30 different breakout health and wellness sessions to attend. We're thankful that ASEBP has helped with organizing these days and presented on a variety of topics each year.
How would you describe the wellness "vibe" at your workplace?
Our workplace is the entire school district, with 30 schools, 7,500 students and nearly 1,000 employees. The topic of health and wellness is discussed more than ever and, as a result, sustainable initiatives are in place. Schools are organizing Student and Staff Wellness Days and leveraging outside agencies and partners to help educate. The WCPS "vibe," just like the Jeffersons', is movin' on up!