Free Wellness Webinar: Burnout Prevention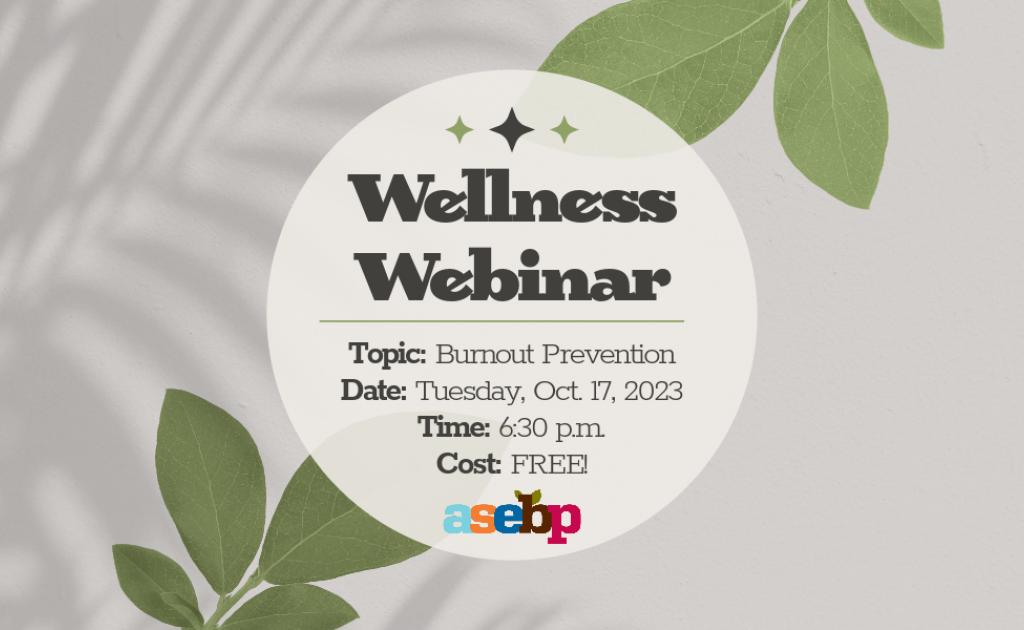 ASEBP is excited to offer a free wellness webinar on the topic of burnout prevention. Join Inkblot (ASEBP's Employee and Family Assistance Program provider) and presenter, CJ Calvert, to learn more about the most concerning occupational hazard of the 21st century—burnout. 
During this one-hour interactive webinar, participants will: 
Learn how to recognize the differences between stress, anxiety, depression, and burnout, 
Explore the impact of burnout on emotional and physical well-being, and 
Learn practical ways to look after themselves and protect their energy in the workplace and beyond. 

Webinar Details 
Topic: Burnout Prevention 
Date: Tuesday, October 17 
Time: 6:30 p.m. – 7:30 p.m. 
Location: Zoom (registration required) 
Use this link to register for this insightful event so you don't miss out! 
More About the Presenter
CJ Calvert is a sought-after motivational speaker, author, and certified life coach. He speaks daily with world-class organizations such as IBM, the U.S. Department of Defense, and professional sports teams, like the Golden State Warriors. Because of his expertise, CJ has presented on the TEDx stage in Vancouver and has been a featured guest on Breakfast Television. 
Remember, registration is required! 
---
Have retirement on your mind? 
Add your name to our Retirement Presentation and Seminar contact list and we'll send you an invitation (in the coming weeks) to our virtual Retirement Seminar set for November 9, 2023, from 8:30 a.m. - 2 p.m. Hear valuable information about your pension, lifestyle and retirement planning, Alberta Coverage for Seniors benefits, travel/trip interruption insurance, and ASEBP MyRetiree Plan benefits*. 
*Topics depend on presenter availability and are subject to change.