Managing your Wellness with ASEBP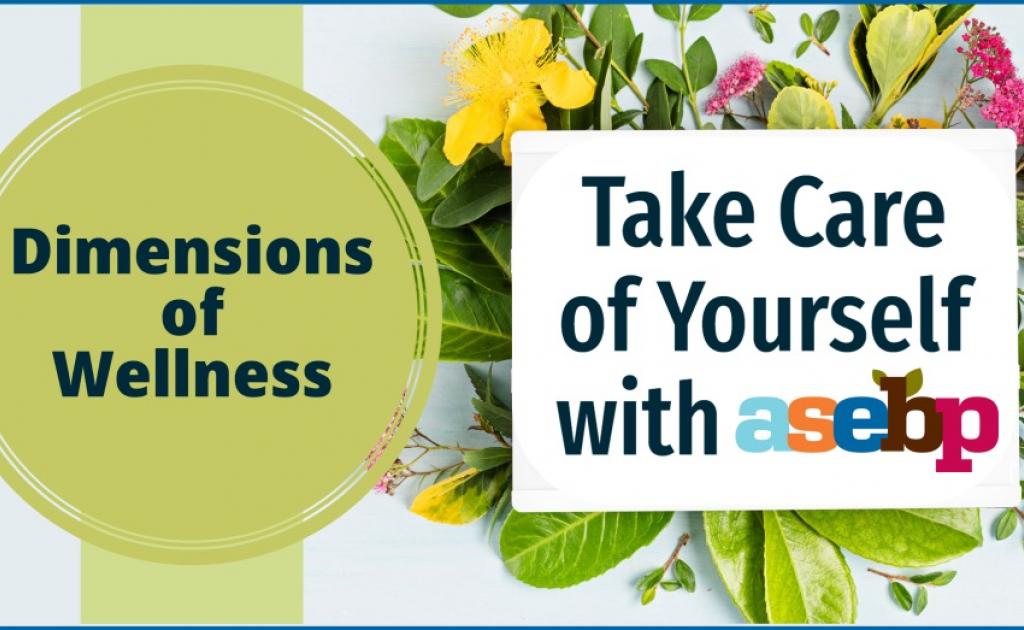 With a new school year just starting, it can feel a bit like January in some ways—celebrating a full year of possibilities and new opportunities ahead. So why not treat it that way by renewing your commitment to your well-being.
At ASEBP, we believe in supporting the eight dimensions of wellness, which you can learn more about in our dimensions of wellness video on our Vimeo Channel. When these dimensions, which include emotional, physical, spiritual, intellectual, environmental, financial, and occupational wellness are in balance, we experience holistic health. But, when one or more is neglected, the impact can show up in some unexpected ways. For example, we all know that if we don't keep active and eat a well-rounded diet, that our bodies don't operate at their optimum level. But did you know that if your emotional needs aren't being met through healthy relationships or if your financial wellness isn't looked after, that the impacts can be felt in other facets of our health? Like stress, headaches, depression, anxiety, and more.
Ensuring we are all mindful of each dimension of wellness and working toward caring for them all is important to overall health and well-being. If you're not sure where to start, not to worry, your ASEBP benefits can help! Here's how: 
Emotional wellness: whether you're struggling with a tough situation or haven't been feeling like yourself lately, your ASEBP Employee and Family Assistance Program (EFAP) offered through Inkblot can help with free counselling services (four hours per calendar year). And don't worry, once you've used your free hours, you still have options, which you can learn more about in this resource. If you're not enrolled in ASEBP's EFAP, you still have access to a wide range of psychological services.
Spiritual wellness: use your Wellness Spending Account (WSA) to help build a meaningful connection to the natural world around you. Your WSA credits can be used to help you spend more time in nature, think kayaking or an outdoor Tai Chi class.
Intellectual wellness: if you're enrolled in WSA 1 (for other education workers), you can use your WSA credits to reimburse professional development course, workshop, and conference fees.
Physical wellness: From fitness coaching to ergonomists and more, you can receive custom support and coaching from health professionals through the Work, Health and Life Services offered as part of your ASEBP EFAP provided by Inkblot. Learn more about available health coaching in this brochure. You can also use your WSA to reimburse a wide range of physical well-being activities and resources.
Environmental wellness: use some of your WSA credits this year to help expand your environments to new and revitalizing places. Try a fitness class or program in a different facility than where you normally would or let a new hobby that your WSA helped you pay for take you on an adventure (e.g., kayaking in a new-to-you lake).
Financial wellness: all your ASEBP benefits can assist with your financial health in one way or another, from reimbursement of dental and other health-related claims to offering peace of mind for the future through Life insurance. But did you know your benefits can also increase your financial literacy and help you with things like budgeting? By using the financial consultation service offered through your ASEBP EFAP, you can connect with certified financial advisors.
Occupational wellness: whether you feel like you're in a bit of a career funk or would like help mapping out your career course, your ASEBP EFAP can help. Through the EFAP's Work, Health and Life Services, you have access to four free hours of career coaching each calendar year.
Social wellness: building strong relationships is important no matter where we are—home or work. From couples counselling to getting support as a new parent, your ASEBP EFAP is a great resource. Additionally, building a network of support through shared sport can also positively impact your well-being, so be sure to check out expense eligibility through your WSA.
No matter the dimension of wellness you want to focus on, your ASEBP benefits offer a wealth of support, all you need to do is get started! Be sure to check out It Takes a Village for additional resources.
---
Have retirement on your mind?
Add your name to our Retirement Presentation and Seminar contact list and we'll send you an invitation (in the coming weeks) to our virtual Retirement Seminar set for November 9, 2023, from 8:30 a.m. - 2 p.m. Hear valuable information about your pension, lifestyle and retirement planning, Alberta Coverage for Seniors benefits, travel/trip interruption insurance, and ASEBP MyRetiree Plan benefits*.
*Topics depend on presenter availability and are subject to change.